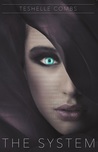 The System
by
Teshelle Combs
My rating:
5 of 5 stars
Be careful, or you might end up in The System!
This is one of those stories that hook you right from the start and keep you hooked. Exciting, intriguing plot and awesome characters, with lots of fun twists and surprises. The System would make an awesome TV series. Hope someone is listening.
Time richly spent.
*FTC Disclosure: I received this book free through the GoodReads Giveaways and the opinions in this review are my own.
View all my reviews